Feminist porn stars debunked
Article
Law + Human Rights
BY
Laura McNally

9 DEC 2015
So-called feminist porn star James Deen has faced shocking accusations of rape from numerous women, including several female porn actors.
If true, it's crucial Deen and men like him are held to account. But it's also vital that porn producers, wholesalers, web hosts, and investors are not given a free pass. The porn industry deserves critique for feigning interest in respectful consensual sex while creating and profiting from its opposite – and doing so under the banner of feminism and ethics.
The porn industry is starting to brand itself as educational and ethical. The likes of Playboy are dedicating column inches to feminism, porn sites are handing out college scholarships and entire genres of porn are being dedicated to feminism.
"Feminist porn" is frequently cited as a solution, despite its limited popularity. Should it give us hope for a future of ethical porn? Recent events suggest not.
Deen's ex-partner Stoya says he coerced her and pinned her down despite her pleas to stop. Her claims were followed by those of several other women alleging Deen had punched, injured, assaulted or anally raped them either on or off set. According to one:
He starts going crazy … extreme, brutally … He just starts shoving things in to the point where he ripped it [her rectum] and I bled everywhere. There was so much blood I couldn't finish the scene.
Deen brands himself "a guy who bangs chicks for a living". He features in numerous titles such as Teenaged Whores 5 and Triple Penetrated in Brutal Gangbang. Deen frequently appears on rough sex sites. He is also viewed as a "male feminist" by supporters.
But the accusations paint a different picture – of dangerous, misogynist ideals that hardly seem out of place in the thinly veiled "ethical" porn industry.
The popular notion that porn is mere fantasy with no link to real-world behaviour is challenged by the suggestion some of Deen's 'frape' (fantasy rape) scenes may have been genuine rape on film. Moreover, it is alleged many of the porn crew were aware these acts were rape and congratulated Deen for getting anal scenes when they hadn't been consented to.
These rape accusations make it clear pornography is not mere fantasy. Some may be footage of sexual violence and it has real negative effects for producers and consumers.
Yet, those harms are frequently denied. Such was the case when the ABC aired Australians on Porn. A Gold Coast Sexual Assault Centre Director was quoted on porn's link to sexual violence:
"The biggest common denominator of the increase of intimate partner rape of women between 14 and 80 is the consumption of porn by the offender …  We have seen a huge increase in deprivation of liberty, physical injuries, torture, drugging, sharing photos and film without consent and deprivation of liberty."
This evidence was dismissed as "irrelevant" by some on the panel – the majority of whom were porn users and supporters. Porn, they suggested, isn't to blame for negatively shaping behaviours. Rather, it opens minds and provides new ideas for the bedroom.
This argument sharply contrasts with police views and consistent research regarding the harmful effects of pornography. Studies backed by numerous meta-analysis show attitudes toward gender equality, sexual aggression and rape acceptance are worse for viewers of pornography.
The question is not whether a man can be feminist and a porn actor, but why an industry that promotes sexual violence and rape porn is regarded as ethical at all.
Young women are increasingly at risk. Forty percent of UK teenage girls report experiencing coerced sex acts and 25 percent report pressure to send pornographic texts. The ABC's panel failed to include any person who could speak to the effect of porn in normalising harassing behaviours, sexual coercion, non-consensual filming or sexual violence. Nor did the panel give a flicker of thought to those harmed in production, or the girls, women and men who have quit on account of physical or emotional injury due to trends toward rough sex, choking and facial abuse.
After dismissing concerns about porn, the panel swiftly refocused on the positive effects of ethical and feminist porn before cutting to air a porn scene.
The ABC panel exemplified the dismissal of social harms with tokenistic stories of good. Those invested in porn are not unique from other industries in derailing critical dialogue with a perfunctory nod toward ethics.
These cynical displays of ethics are also used to gain greater political reach. Porn as sex education was recommended by some among the panel. James Deen regularly penned sex advice columns for mainstream feminist publications.
The question is not whether a man can be feminist and a porn actor, but why an industry that promotes sexual violence and rape porn is regarded as ethical at all. What of the ethical considerations stemming from the millions masturbating to scenes of sexual violence on film?
An industry that contributes to and profits from rape culture is an unlikely ally for gender equality.
---
Get the latest inspiration, intelligence, events & more.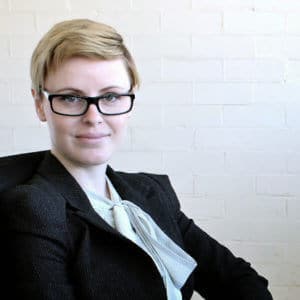 BY
Laura McNally
Laura McNally is a psychologist, author and PhD candidate researching the political implications of corporate social responsibility. She is the chair of the Australian branch of Endangered Bodies.
---
You may also be interested in...