THE BANKING + FINANCE OATH
"At the end of the day, you may have to make a decision that's guided only by your moral compass. But a signatory to the Oath has many points on that compass to guide them."
JOHN LAKER, CHAIR OF THE BFO, FORMER CHAIR APRA
"I find the Oath powerful because it is very much a personal commitment by individuals. While regulation and corporate systems work top down, these are individuals seeking to drive change bottom up."
"As the first line of the Banking and Finance Oath says: 'Trust is the foundation of my profession'. I encourage everybody in the finance sector to read this oath regularly and to live by it."
PHILIP LOWE, RBA GOVERNOR, BFO SIGNATORY
"We ask our staff members to take time to think about the Oath, to sign up on their own accord, and to incorporate it in their day to day life."
QUENTIN REEVE, CHIEF OF STAFF & PARTNER, KODA CAPITAL
The Banking and Finance Oath (The BFO) is a unique industry-led initiative that provides those working in financial services with a mechanism to reflect on what it means to behave ethically, and with integrity. With an aim of building trust and encouraging ethical behaviour, the Oath contains a set of commitments that individuals adopt and apply as personal principles in their work. 
Founded by The Ethics Centre in 2012, The BFO is now an independent entity with more than 2,900 individuals taking the Oath since its inception, including the CEOs and Chairs of Australia's leading financial institutions.
Connecting financial service professionals through a shared belief in the inherent 'good' of the banking and finance industry, The BFO fosters ethical practice through valuable conversations, events, and exemplary individual commitment.
In referencing The BFO in his response to the Final Report of The Royal Commission into Misconduct in the Banking, Superannuation and Financial Services Industry, Simon Longstaff the Executive Director at The Ethics Centre, said "If ever there was a time to make something better, it is now. In the wake of the Hayne royal commission, it is time for the ethical majority, working within banking and finance, to step up. Whatever your role or seniority – it's time to own what is noble in the aims of banking and finance and to give life to its ideals."
"Embrace underlying principle, measure and achieve alignment, exercise ethical restraint, regain trust. Do so in the expectation of profit and to earn that most elusive of rewards: a good name. That is the opportunity that lies latent in the recommendations of the Hayne Report."  You can read Dr Longstaff's article in full here.
Rebuilding the industry's reputation and public trust starts with the individual. This is the strength of the Oath.
2937
SIGNATORIES SINCE INCEPTION
340
INCREASE BETWEEN 2017-2018
16
YOUNG AMBASSADORS MENTORED THROUGH OUR PROGRAM
15
ORGANISATIONS WITH 100% OF EMPLOYEES COMMITTED TO THE OATH
Trust is the foundation of my profession.
I will serve all interests in good faith.
I will compete with honour.
I will pursue my ends with ethical restraint.
I will help create a sustainable future.
I will help create a more just society.
I will speak out against wrongdoing and support others who do the same.
I will accept responsibility for my actions.
In these and all other matters;
My word is my bond.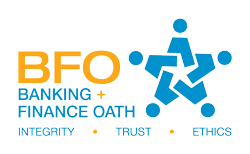 The BFO supports discussion and exploration through a range of initiatives and a program of regular events. For more information visit The BFO website — thebfo.org