Why we can't learn from our past (and shouldn't try to)
Article
The Future
BY
Emma Elsworthy

12 DEC 2022
Businesses make up around two-thirds of psychic Denise Litchfield's readings.
The Australian's clairvoyant method "looks into the energy around their business and sees if a project needs tweaking".
For instance, she tells journalist and author Gary Nunn, she once spotted an error in an email sequence that purportedly saved a person "thousands". 
Nunn's book, The Psychic Tests, delves into the multi-billion dollar industry of predicting the future using what we know, and why humans are so keen to do so. A healthy sceptic, Nunn was astounded to learn psychics are called upon by everyone from your average Joe or Jane right up to CEOs and even presidents. 
Former BBY chairman Glenn Rosewall, who oversaw the largest failure of an Australian stockbroking firm since the financial crisis, allegedly asked a psychic advice for wealth clues for four years, including insights about the stockbroking firm's astrological charts, hiring staff, and budgets. 
Even former US president Ronald Reagan and wife Nancy called upon astrology to guide their schedules in what was called "the most closely guarded domestic secret of the Reagan White House", though it was not used in forming policies or decision-making, Reagan assured the public. 
Cash-hungry mysticism aside, the powerful seeking predictions speaks to a deeply-held human emotion to prepare oneself for the future's challenges. But as we enter into an era with several of what Adam Tooze dubs overlapping "tipping points", we may find no amount of looking back and learning from our mistakes will help. 
Tooze, a British historian and Director of the European Institute, told The Festival of Dangerous Ideas that there is "a fundamental paradox at work" – that is, "a desire to work from history, the sense that we can go nowhere else for inspiration, but to our past experience" to equip ourselves for what's coming. 
But, Tooze continues, "this is the issue of tipping points – that fundamentally oppressive sense that we live under in the current moment – that we are years, weeks, possibly hours away from some transformative event that is going to change the world, like the pandemic did to us in a matter of days in early 2020". 
Fast-forward to now and still-deadly pandemic, a rapidly heating planet, a war in Ukraine, and several key nations including the US and EU careening towards a recession next year doesn't exactly make building a plan for the future straightforward. But that's exactly what Treasurer Jim Chalmers did when he crafted the Albanese government's austere first budget last month. 
While in opposition, Chalmers told the Australian Chamber of Commerce and Industry that we have just lived through "the weakest decade of growth since the 1930s, stagnant business investment, productivity and wages, growing debt," while simultaneously facing uncertainty about "the consequences of floods and war, when interest rates will rise, the challenges of falling real wages and skills shortages – all against the backdrop of a lingering pandemic". 
This, Tooze says, cuts to the bone of the problem of trying to predict the "radical future". "What would it actually mean to craft policy which addressed the radical novelty, which our best guess suggests what the future holds in store?" he asks. 
Sure, Tooze continues, we "entrust this task to experts, it could be their job to prepare endlessly for this radical future that will be radically different". But, he says, it's an incredibly oppressive burden that can "destabilise your sense of normality, it tends towards the apocalyptic, it tends towards almost a fantastical notion of the future". 
"And if it's the difference between the past and the present, that opens up the space of history, then learning from history is going to be an inherently doomed exercise from the very beginning," Tooze says.
Perhaps it is up to our private sector to save the world. Elon Musk might be making headlines for his disruptive leadership at Twitter (including an exodus of three-quarters of the staff), but Tesla remains one of the world's most valuable companies in the world and the number one most valuable automaker, with a market capitalisation of more than US$840 billion. 
How? By breaking new ground, rather than looking back, in accelerating the world's transition to sustainable energy with electric cars, solar and integrated renewable energy solutions for homes and businesses, taking strides to slash the world's automotive emissions (which make up 10% of Australia's total) and cashing in along the way. 
"After all, one person's unsolved issue is another person's business opportunity," as Tooze put it.
But is appointing brainy futurist technocrats like Musk or successful Wall Street billionaires like the newly-minted British PM Rishi Sunak the solution to an unclear future? Tooze says it brings up a whole lot of other questions – namely whose interests would they really be serving, and how could we be sure they were drawing "the right inferences" from the past? 
"The financial interests which are doing that job for them really have free rein for those elites, we would need them to be acting in a vacuum of social power, we would need them to be free to enact as it were, the technocratic logic, the derivations of the past, the present and the future … that we want to see them doing," Tooze says.  
If there's one thing we can take from the past with confidence, he continues, it's English economist John Maynard Keynes telling the BBC back in 1943 that "anything we can actually do, we can afford" – we are "immeasurably richer than our predecessors", Maynard Keynes asked. So why does "sophistry, some fallacy, govern our collective action"? 
In other words, Tooze says, we have the money and we have the brains to solve our challenges. Reimagining the system may remain a lofty goal for idealists, but the self-determining reality is that it comes down to the individual. "The problem is actually concerning ourselves getting our act together to do the things," he says.  
We have the money and we have the brains to solve our challenges. Reimagining the system may remain a lofty goal for idealists, but the self-determining reality is that it comes down to the individual.
"We will make shifts, we will look for compromises, we will find hustles. We'll differ, we'll react, we'll adapt, we'll crisis fight, we will ameliorate, and we will slouch, not towards utopia or disaster, it seems to me, but potentially, possibly, towards coping," Tooze concludes. 
"The central question that I think we need to focus on is this issue of timing. Is it going to be enough? Is it going to be fast enough? … Will we be able to keep pace with this reality that we face and that preoccupies and concerns us all?"

Tune into Adam Tooze's FODI discussion, F=fail
---
Get the latest inspiration, intelligence, events & more.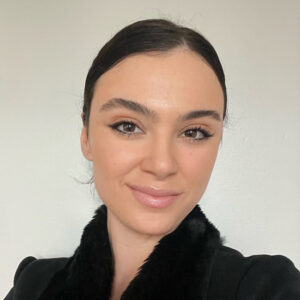 BY
Emma Elsworthy
Before joining Crikey in 2021 as a journalist and newsletter editor, Emma was a breaking news reporter in the ABC's Sydney newsroom, a journalist for BBC Australia, and a journalist within Fairfax Media's regional network. She was part of a team awarded a Walkley for coverage of the 2019-2020 bushfire crisis, and won the Australian Press Council prize in 2013.
---
You may also be interested in...