Care is a relationship: Exploring climate distress and what it means for place, self and community
As part of their 2023 Ethics Centre residency, researchers Dr Chloe Watfern and Dr Priya Vaughan collaborated with researchers, artists and service providers to explore creative approaches to climate distress, and the ethics of care for place, self, and community in the context of ecological crisis.
Why is it that we are touched most by the things closest to us? Touched, as in, made to feel something strongly, to care in its meanings as both a verb and a noun – to feel concern for and to want to protect or nurture a child, a parent, a special place, a garden, or the bird out the window. It's a question with an obvious answer. Because they are close. Because they can be felt, sometimes even touched.  
Traditional moral theories require us to be unemotional, rational, and logical. For example, we are thought (or urged) to objectively calculate the extent to which our actions will lead to a good outcome for the greatest number of people. However, in the context of our daily lives, an ethics of care highlights the pull of relationships and feelings, like love and compassion, in our moral decision-making.
 
Tentacle, n.
Zoology: A slender flexible process in animals, esp. invertebrates, serving as an organ of touch or feeling. (Oxford English Dictionary) 

The first recorded use of the word "tentacle" in the English language was in 1764, when A. P. Du Pont wrote that "the fingers, or tentacles, end in a deep blue."  
At about this time, the industrial revolution was just beginning in Great Britain, continental Europe, and the United States. Humans in these places gradually, and then very rapidly, moved away from producing things by hand. Coal, iron and water were the core elements of this rapid transformation in societies, extraction and exploitation its drivers. Today, we are at the coal face of its legacy.  
Where will all this lead? To a deep blue? To a burning world? To unaddressable environmental collapse? To rubble, ash, and mud?  
Care in an era of climate distress
Certainly, we know and feel that the living systems of the earth have been deeply compromised by human activities. This knowledge is a source of intense distress for many of us. At the same time, the collapse of systems creates new and ancient forms of distress, as homes and lives are destroyed or radically altered.  
More and more of us care as more and more of us are touched by the effects of our collective actions: biodiversity loss, pollution, global boiling. What might we do with our bare hands, our sentient bodies, to make up for all the loss on our horizon? And where is the horizon anyway?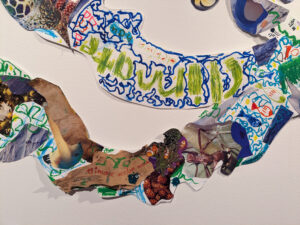 Professor Timothy Morton refers to global warming, like evolution, or relativity, as a "hyperobject": something that is very difficult to comprehend using the cognitive tools that we humans have evolved to possess. Climate is everywhere and nowhere, in Antarctic ice sheets and cow belches, in bees and babies, in the cloud and the web, in bushfire smoke and too much (or not enough) rain on a tin roof.  
Does Earth's climate care that it is boiling? We don't know, because we don't know how to ask. We can only guess. 
Stories of care
During our residency at the Ethics Centre in May 2023, we asked humans to share their stories of care. Colleagues, friends, family members, clinicians, artists, researchers, elders, and knowledge keepers each brought an object that connected to community, self, or planetary care in the climate crisis. These objects – a clay pot, a biodegradable bin bag, leaves collected on country, a handful of seeds – held and evoked memories of grief and loss, but above all, connection with humans, more-than-humans, and places. Close encounters filled with care. 
Seeking a way to capture and share these memories, we asked these humans to help us create a tentacular creature: part cephalopod, part bird, part plant, part insect, part fungi, part human, part bacteria, part virus, part landscape.
For us, this tentacular creation was the perfect creature to hold stories of care, responsibility, hope, and fear in the context of our precarious and precious world.
Neither and both human and animal, nature and artifice, Tentacular collapses fictious binaries that have, historically, enabled the climate crisis to be seen as a problem with 'nature', rather than the total phenomenon it is.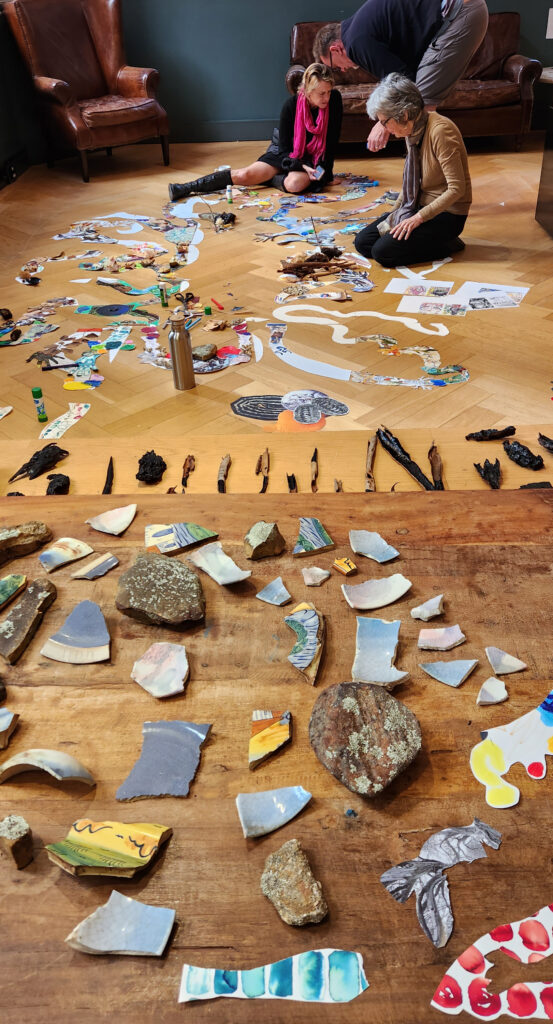 Each tentacle of this collective artwork reaches outwards, seeking connection and offering stories that speak to the ways we might care, in responsible and responsive ways, for ourselves, each other, and the wounded world. Here, we share some evocative snippets from the stories of care that each person offered:  
Gadigal, Bidjigal and Yuin elder Aunty Rhonda Dixon–Grovenor grew up being taught to respect and care for country. She tells people "If we are in nature and enjoy it and care for it, then it nourishes us… Care is a relationship, it's a two-way, it's not just one person dominating."  
"Care is a relationship, it's a two-way, it's not just one person dominating." – Aunty Rhonda Dixon-Grovenor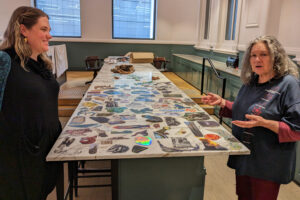 Academic Dr Barbara Doran reflects on the tuition of a beehive: "The bees connected me to a more nuanced relationship with nature… Now, I'm more aware of rain, of flowering patterns, of birds: the ecosystem is amplified in my eyes. But after the fires, I've noticed an echo-effect. They have been splitting more than they usually do. This year is the first season with no honey. I'm noticing these resonant patterns in a climate changed world. The hive is my teacher, healer and sharpener of antennas."  
Psychotherapist and Group Facilitator at We Al-li, Georgie Igoe asks us to consider threshold experiences: "For me, care means sitting with discomfort and uncertainty, opening ourselves up to the unknown – in the muck, in the grief, not sidestepping it but acknowledging its power."  
Installation artist and theatre-maker Brownyn Vaughan shares the wisdom of her favourite writers and of her favourite swimming place: "The Mahon pool brought me up, it's my go-to-place… Professor Astrida Neimanis tells us we must stop trying to ascend and transform. Instead, we must submerge, become part of the water." 
Artist-survivor, and lived experience advocate, Lea Richards, mourns and advocates for the mountains: "Snow melt is mountain's blood. I weep for the glaciers, so far from arid Australia, yet not separate. I imagine connections to those vanishing snows– a flow of water between us. If I conserve this precious blood, can I tend those far places, postpone the melting?"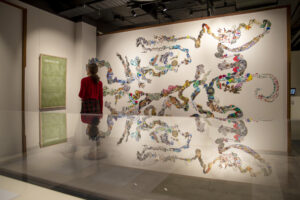 Embedded in many, perhaps all, of these stories is a conviction that we need to, as Bronwyn said, submerge, to acknowledge our place in the meshwork of the world, and in so doing, to learn with and from the environment. This means burying ego, rejecting a hierarchy where humans are at the apex, and attending in quotidian ways to what is happening to us and around us. Let's become like tentacles, feeling our way into a better relationship with the world we care so much about. 
Tentacular, as part of the exhibition: Care is a Relationship is on display at UNSW Library until 17 November.
Applications for 2024 Residencies are now open until 30 November. Find out more about The Ethics Centre Residency Program.
---
Get the latest inspiration, intelligence, events & more.
By signing up you agree to our privacy policy
---
You might be interested in…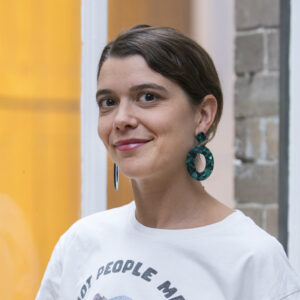 Dr Chloe Watfern works across the social sciences, humanities, and creative arts to tackle the big and interconnected challenges of our time, from social inclusion and mental health to climate change. She is currently working at Black Dog Institute (UNSW) and Maridulu Budyari Gumal SPHERE (Sydney Partnership for Health, Education, Research and Enterprise)'s Knowledge Translation Strategic Platform.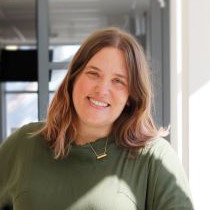 Dr Priya Vaughan takes an interdisciplinary, and participatory approach to health research, utilising arts-based and socially informed methodologies, knowledge translation (KT) strategies, and interventions to learn about and support mental health and wellbeing. She is currently working at Black Dog Institute (UNSW) and Maridulu Budyari Gumal SPHERE (Sydney Partnership for Health, Education, Research and Enterprise)'s Knowledge Translation Strategic Platform.