"If nothing matters, then all the pain and guilt you feel for making nothing of your life goes away." – Jobu Tupaki,
Everything Everywhere All At Once
Do our lives matter? 
Nihilism is a school of philosophical thought proposing that our existence fundamentally lacks inherent meaning. It rejects various aspects of human existence that are generally accepted and considered fundamental, like objective truth, moral truth and the value and purpose of life. Its origin is the Latin word 'nihil', which means 'nothing'.  
The most common branches of nihilism are existential and moral nihilism, though there are many others, including epistemological, political, metaphysical and medical nihilism. 
Existential nihilism 
In popular use, nihilism usually refers to existential nihilism, a precursor to existentialist thought. This is the idea that life has no inherent meaning, value or purpose and it's also often (because of this) linked with feelings of despair or apathy. Nihilists in media are usually portrayed as moody, brooding or radical types who have decided that we are insignificant specks floating around an infinite universe, and that therefore nothing matters.  
Nihilist ideas date as far back as Buddha; though the beginning of its uprising in western literature appeared in the early 19th century. This shift was largely a response to the diminishing moral authority of the church (and religion at large) and the rise of secularism and rationalism. This rejection led to the view that the universe had no grand design or purpose, that we are all simply cogs in the machine of the existence. 
Though he wasn't a nihilist himself, Friedrich Nietzsche is the poster-child for much of contemporary nihilism, especially in pop culture and online circles. Nietzsche wrote extensively on it in the late 19th century, speaking of the crisis we find ourselves in when we realise that the world lacks the intrinsic meaning or value that we want or believed it to have. This is ultimately something that he wanted us to overcome.  
He saw humans responding to this crisis in two ways: passive or active nihilism.  
For Nietzsche, passive nihilists are those who resign themselves to the meaninglessness of life, slowly separating themselves from their own will or desires to minimise the suffering they face from the random chaos of the world. 
In media, this kind of pessimistic nihilism is sometimes embodied by characters who then act on it in a destructive way. For example, the antagonist, Jobu Topaki in Everything Everywhere All At Once comes to this realisation through her multi-dimensional awareness, which convinces her that because of the infinite nature of reality, none of her choices matter and so she attempts to destroy herself to escape the insignificance and meaninglessness she feels.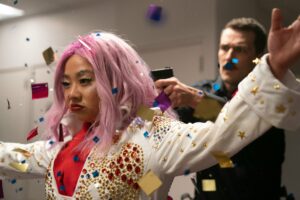 Active nihilists instead see nihilism as a freeing condition, revealing a world where they are emboldened to create something new on top of the destruction of the old values and ways of thinking.  
Nietzsche's idea of the active nihilist is the Übermensch ("superman"), a person who overcomes the struggle of nihilism by working to create their own meaning in the face of meaninglessness. They see the absurdity of life as something to be embraced, giving them the ability to live in a way that enforces their own values and "levels the playing field" of past values.  
Moral nihilism
Existential nihilism often gives way to moral nihilism, the idea that morality doesn't exist, that no moral choices are preferable in comparison to others. Because, if our lives don't have intrinsic meaning, if objective values don't exist, then by what standard can we call actions right or wrong? We normally see this kind of nihilism embodied by anarchic characters in media. 
An infamous example is the Joker from the Batman franchise. Especially in renditions like The Dark Knight (2008) and Joker (2019), the Joker is portrayed as someone whose expectations of the world have failed him, whose tortuous existence has led him to believe that nothing matters, the world doesn't care, and that in the face of that, we shouldn't care about anything or anyone either. In his words, "everything burns" in the end, so he sees no problem in hastening that destruction and ultimately the destruction of himself. 
The Joker, 2019

"Now comes the part where I relieve you, the little people, of the burden of your useless lives."
The Joker epitomises the populist understanding of nihilism and one of the primary ethical risks of this philosophical world view. For some people, viewing their lives as lacking inherent meaning or value causes a psychological spiral into apathy.  
This spiral can cause people to become self-destructive, reclusive, suicidal and otherwise hasten towards "nothingness". In others, it can cause outwardly destructive actions because of their perception that since nothing matters in some kind of objective sense, they can do whatever they want (think American Psycho).  
Nihilism has particularly flourished in many online subcultures, fuelling the apathy of edgelords towards the plights of marginalised populations and often resulting in a tendency towards verbal and physical violence. One of the major challenges of nihilism, historically and today, is that it's not obviously false. This is where we rely on philosophy to be able to justify why any morality should exist at all. 
Where to go from here
A common thread runs through many of the nihilist and existentialist writers about what we should do in the face of inherent meaninglessness: create it ourselves. 
Existentialists like Simone de Beauvoir and Jean-Paul Sartre talk about the importance of recognising the freedom that this kind of perspective gives us. And, equally, the importance of making sure that we make meaning for ourselves and for others through our life. 
For some people, that might be a return to religion. But there are plenty of other ways to create meaning in life: focusing on what's subjectively meaningful to you or those you care about and fully embracing those things. Existence doesn't need to have intrinsic meaning for us to care. 
---
Get the latest inspiration, intelligence, events & more.
By signing up you agree to our privacy policy
---
You might be interested in…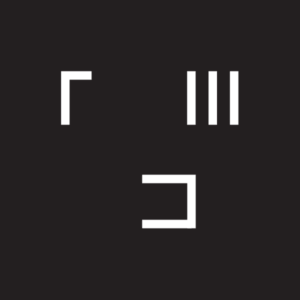 The Ethics Centre is a not-for-profit organisation developing innovative programs, services and experiences, designed to bring ethics to the centre of professional and personal life.