"I'm sorry *if* I offended you": How to apologise better in an emotionally avoidant world
As we gear up for a referendum on a Voice to Parliament next year, I've been wondering if we need to have a better look at the way we say sorry.
We live in a highly binary and individualistic world that struggles to repent well. Yet we are increasingly aware of – and flummoxed by – bad faith efforts at the gesture.  
Witness the fallout from former Prime Minister Scott Morrisons' baffling response speech to being censured last week in which he refused to apologise to the nation. I reckon we ache to do better; we want true healing. 
We could start with looking at the way we so often insist on whacking the Almighty Absolving Qualifier "if" when we issue an "I'm sorry". I'm sorry if you're offended/upset/angry. We go and plug one in where a perfectly good "that" would do a far better job.  
But an "if" negates any repentant intent. Actually, worse. It gaslights. It puts up for dispute whether the hurt or offence is actually being felt and whether it is legitimate. Attention switches to the victim's authenticity and their right to feel injured. Did you actually get hurt? Hmmm…. 
Things get even more disconcerting when the quasi-apologiser thinks they have done something gallant with their qualified "I'm sorry". And will gaslight you again if you pull them up on the flimsiness of it. What, so you can't even accept an apology!  
I had a rich, senior businessmen do the if-sorry job on me recently. "I'm sorry if you're angry," he said in a really rather small human way. Rather than standing there miffed, I replied, "Great! Yep, you definitely fucked up. And so I'm definitely and rightly angry. Now that's established, sure, I'll take on that you'd like to repent." 
I heard a well-known doctor on the radio the other morning very consciously (it seemed) drop the if from the equation when he had to apologise for making remarks about a minority group (in error) in a previous broadcast. "I'm sorry I said those things. I was wrong. I'm not going to justify myself. There are no excuses. I was in the wrong," he said. It was a good, textbook apology and he probably wouldn't land in trouble for it. 
But, and it immediately begs, is that the point of an apology? 
For the wrongdoer to stay out of trouble? For them to neatly right a wrong by going through a small moment of awkward, vulnerable exposure? 
What about the victim? Where do they sit in apologies?
I recall listening to a radio discussion where all this was dissected. The point that grabbed me at the time was this: In our culture, the responsibility of ensuring that an apology is effective in bringing closure to a conflict mostly rests on the victim, the person being apologised to. No matter the calibre of the apology, it's up to the person who has been wronged to be all "that's ok, we're sweet" about things. They are effectively responsible for making the perpetrator feel OK in their awkward vulnerable moment. (And to keep the pain shortlived.) 
And so a successful apology rests in the victim's readiness to forgive. 
Which is all the wrong way around. At an individual-to-individual level it's cheap grace. The wrongdoer gets absolved with so little accountability involved. 
At a macro level, say with injuries like racism or sexism, we can see the setup is about a minority class forgiving, or bowing once again, to the powerful. 
I managed to find the expert who'd led the discussion –  Rabbi Danya Ruttenberg, a New York-based Rabbi and scholar who's written a book on the matter, On Repentance and Repair: Making Amends in an Unapologetic World, a title that says it all, right? 
Ruttenberg argues we are doing apologies inadequately and in a way that fails to repair the damage done precisely because we privilege forgiveness over repentance. 
So how to apologise like you mean it
Drawing on the 12th Century philosopher Maimonides, Ruttenberg sets out five steps to a proper apology. 
1. Confession
The wrongdoer fully owns that they did something wrong. There's to be no blabbing of great intentions, or how "circumstances" conspired; no "if" qualifiers. You did harm, own it! Ideally, she says, the confession is done publicly.
2. Start to Change
Next, you the work to educate yourself, get therapy etc. Like, demonstrate you're in the process of shifting your ways. You're talk and trousers! 
3. Make amends
But do so with the victim's needs in mind. What would make them feel like some kind of repair was happening? Cash? Donate to a charity they care about? 
4. OK, now we get to the apology!
The point of having the apology sitting right down at Step 4 is so that by the time the words "I'm sorry" are uttered, we, as the perpetrator, are engaged and own things. The responsibility is firmly with us, not the victim. By this late stage in the repenting process we are alive to how the victim felt and genuinely want them to feel seen. It's not a ticking of a box kinda thing. Plus, we've taken the responsibility for bringing about closure, or healing, out of the victim's hands. 
 5. Don't do it again
OK, so this is a critical final step. But there's a much better chance the injury won't be repeated if the person who did the harm has complete the preceding four steps, according to Ruttenberg and Maimonides. 
Does forgiveness have to happen?
I went and read some related essays by Rabbi Ruttenberg just now. The other point that she makes is that whether or not the victim forgives the perpetrator is moot. When you apologise like you mean it (as per the five steps), I guestimate that 90 per cent of the healing required for closure has been done by the perpetrator. And it happens regardless of whether the harmed party forgives, because the harm-doer sat in the issue and committed to change. The spiritual or emotional or psychological shift has already occurred. 
I should think that, looking at it from a victim-centric perspective, this opened space allows the harmed party to feel more comfortable to forgive, should they choose to.
It's a win-win, regardless of whether the aggrieved waves the forgiveness stick. 
(The Rabbi notes that in Judaism, as opposed to Christianity, there is no compulsion for the harmed party to forgive.) 
What *if* we offend or harm unintentionally?
I was presented with the above ethical quandary while writing this. Someone on social media commented that she'd wanted to approach me recently but felt she couldn't because she had two kids in tow at the time. She figured I'd judge her for being a "procreator" given my climate activism work and anti-consumption stance. It was an unfortunate assumption. I had only last week written about how bringing population growth into the climate crisis blame-fest is wrong, ethically and factually (it's not how many we are, it's how we live). 
Of course, her self-conscious pain was real. But did I need to repent if I'd done nothing wrong, and certainly not intentionally (indeed, I'd not acted, in bad faith or otherwise). 
I decided there was still a very good opportunity to switch out an "if" for a "that". I replied: "I'm sorry that you felt….". And I was. I didn't want her to have that impression of judgement from another, nor to feel so self-conscious. I was sorry in the broad sense of feeling bad for her. Feeling sorry can be a sense of tapping into a collective regret for the way things are, even if you are not directly responsible. 
The real opportunity here was to take on responsibility for healing any hurt, and to speed it up. If I'd listed out and justified why this person was mistaken (wrong) in feeling as she did, I'd have also missed an opportunity to be raw and open to the broader pain of the human condition. 
Doing good apology is essentially an act in correctly apportioning the tasks required to get the outcome that we are all after, which, for most adults, is growth, intimacy and expansion. Ruttenberg makes the point that some indigenous cultures work to this (more mature) style of repentance (as opposed to cheap grace), as well as various radical restorative justice movements. I note that the authors and elders who contributed to the Uluru Statement from the Heart often remind us that the document is an invitation to all Australians to grow into our next era.  
---
Get the latest inspiration, intelligence, events & more.
By signing up you agree to our privacy policy
---
You might be interested in…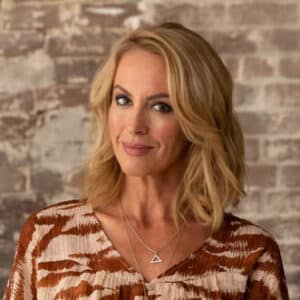 Sarah Wilson is a multi-New York Times and Amazon best-selling author, podcaster, international keynote speaker, philanthropist and climate change advisor. Sarah is known globally for founding the I Quit Sugar movement – a digital wellness program and 13 award-winning books that sell in 52 countries – which saw millions around the world transform their health. In 2022 Sarah sold the business and gave everything to charity. Sarah is an experienced journalist and broadcaster. She was previously the editor of Cosmopolitan Australia at age 29; host of Masterchef Australia; was a News Corp journalist and columnist; and has hosted ABC's Compass, Ten's The Project and more. She is also a regular commentator on news and current affairs programs in Australia, the US and UK.